Paradise Alley Players
Welcome to the home page of the Paradise Alley Players
The community theatre group of the
Marion Cultural and Civic Center


Since the City of Marion created the Marion Cultural
and Civic Center in 1974, Paradise Alley Players has
been its non-profit community theatre. We are proud
to hold that distinction. Providing quality, family
oriented shows has always been our goal. We hope
to continue to have your support for the next 30 years.
Bravo to you, our fans!
2013 is our 39th year performing for Southern Illinois
audiences. Our goal is to perpetuate theatre arts in
the area. We do this through our many programs such
as our Playwright competition, the Children's Theatre
Workshop, Summer Lab Theatre, the annual Children's
show, and our family oriented productions.
Please take a moment to browse the links on the bar
at the left of the page. The Coming Events button will
take to a page that links to more information about
each of our shows.
Be sure to sign up for our newsletters. They have the
information about auditions, coming events, and other
items of interest. It is the best way to keep up on
everything we are doing. All of our productions and
auditions are advertised in local newspapers, radio
and TV as well as this website and the Marion Cultural
and Civic Center's website http://www.marionccc.org.
If you wish to receive our newsletter please send us your
Name and Address to
P.A.P. c/o Granger Odum
P. O. Box 885
Marion, IL 62959
Or email the information to us at Granger.Odum@gmail.com

==================================================
Coming in February just in time for Valentines Day
LOVE, SEX and the IRS
Auditions Dec 2nd and 3rd 6 - 8pm
at the Marion Cultural and Civic Center.
Check back here for more information.
The STORY: Jon Trachtman and Leslie Arthur are out of work musicians who room together in New York City. To save money, Jon has been filing tax returns listing the pair as a married. The day of reckoning comes when the Internal Revenue Service informs the "couple" they're going to be investigated. Leslie masquerades as a housewife, aided by Jon's fiancee, Kate. Complicating matters further Leslie and Kate are having an affair behind Jon's back, Jon's mother drops in unexpectedly to meet her son's fiancee, and Leslie's ex girlfriend shows up demanding to know why Leslie has changed and won't see her anymore. Like a cross between I Love Lucy and Some Like it Hot!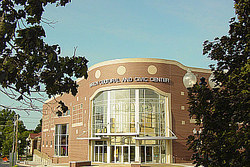 Click on the picture to go to the MCCC website
"The Best Christmas Pageant Ever"
by Barbara Robinson.
Friday Dec. 6th 7:30pm
Saturday Dec. 7th 7:30pm
Sunday Dec. 8th 2pm
In this hilarious Christmas classic, a couple struggling to put on a church Christmas pageant is faced with casting the Herdman kids--probably the most inventively awful kids in history. You won't believe the mayhem - and the fun - when the Herdmans collide with the Christmas story head on!
This delightful comedy is adapted from the best-selling Young Adult book, and has become a holiday classic for theatre across the United States! Features plenty of great roles for children and adults, a few favorite Christmas Carols, and a lot of laughs! "An American classic." - McCall's Magazine
Order tickets online at MarionCCC.COM, at the box office or call 997-4030
Playwright Competition Jan. 1st - April 15th
Paradise Alley Players will be accepting submissions between Jan 1st and April 15th from local writer interested in competing in our Playwright Competition. The rules and instruction are below.
Playwright Rules
Name, Address and Phone Number should appear on the title page only.
Title and number each page of your play.
Submissions cannot have been previously performed.
Plays must be post marked no later than April 15th.
Please mail 3 copies of your script to:
P.A.P. c/o Joyce Hope
PO Box 885
Marion, IL 62959

Prizes awarded to the top three plays will be: $100 for 1st place, $50 for 2nd place, and $25 for 3rd place. For our young writers (8-18 year olds) we have a category with a $10 prize. Selected plays will be performed at our Summer Lab Theatre in August.
Guidelines for a winning script
Family oriented material. Vocabulary, language and subject matter should be written with the understanding that young children and senior citizens will be in attendance at the performances.
Laboratory theatre production constraints - Simple set designs work best as does limiting the number of scene changes and props required.
Other constraints - Plays should run between 15 and 30 minutes. Plays with many characters are often hard to cast.